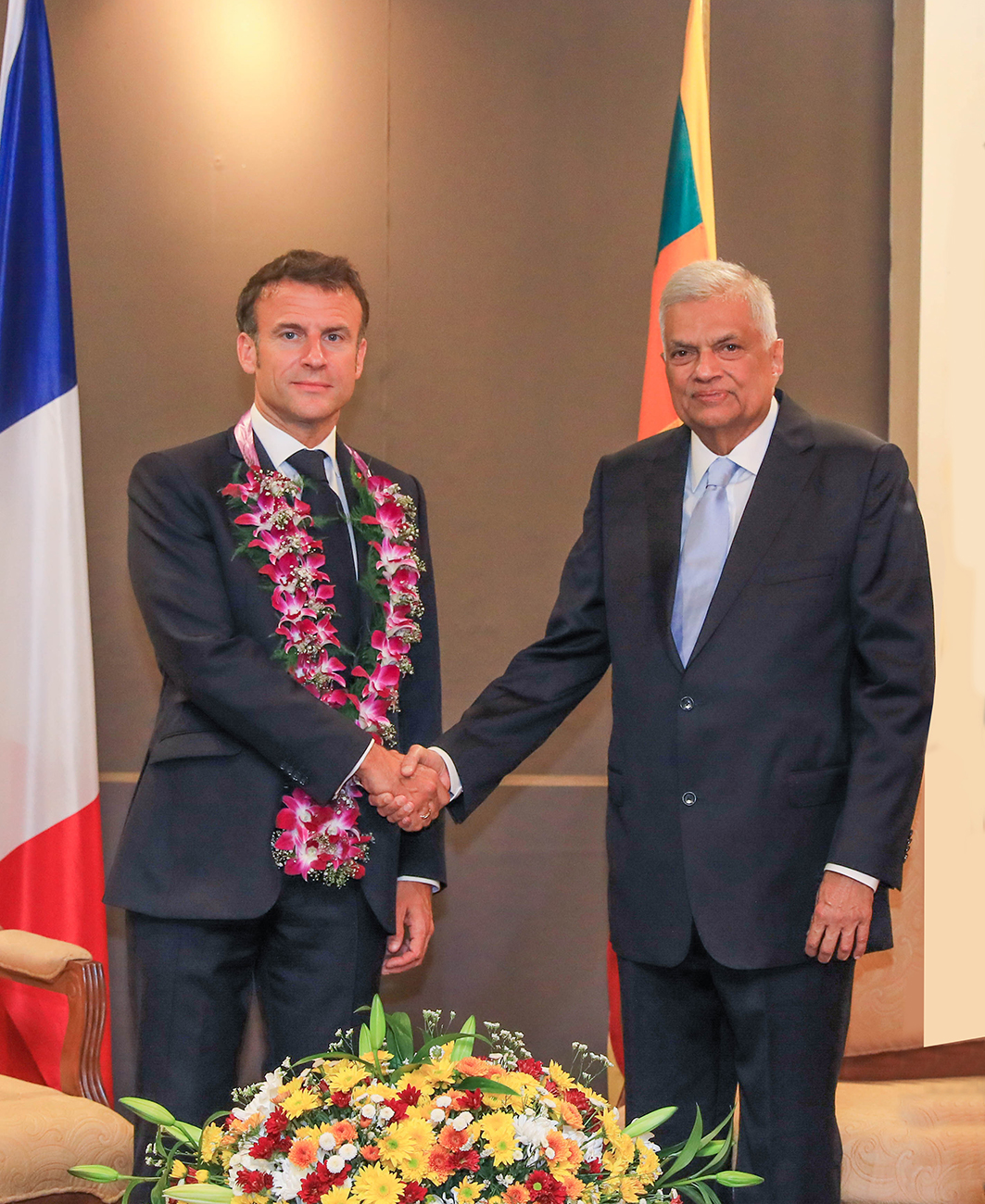 French President Pledges Strong Support for Debt Restructuring and Bolsters Bilateral Relations during Historic Visit to Sri Lanka
French President Emmanuel Macron made a historic visit to Sri Lanka yesterday (28), following his trip to the South Pacific Region. This visit marked the first time a French President had visited the country.
During the visit, President Ranil Wickremesinghe and President Macron held friendly and productive bilateral discussions which lasted for an hour and fifteen minutes. The main objective was to enhance and elevate the existing relations between Sri Lanka and France, especially considering the 75th anniversary of their diplomatic ties being celebrated this year.
President Wickremesinghe expressed admiration for France's significant role in global affairs, particularly in areas such as climate mitigation, global debt restructuring, and matters related to the Indo-Pacific region.
President Macron recalled his recent conversations with President Wickremesinghe in Paris, which took place during the Summit for a New Global Financing Pact. He reaffirmed France's willingness and commitment to supporting Sri Lanka in its economic recovery. As the fourth-largest creditor to Sri Lanka, France pledged its assistance in the debt restructuring process, aiming for a positive outcome for the country.
In a Twitter post following the discussions, President Macron stated, "Sri Lanka and France are two nations in Indian Ocean sharing the same goal: an open, inclusive and prosper indo-pacific. In Colombo we confirmed it: strong as in our 75 years of diplomatic relations, we would open a new era to our partnership."
The discussions between the two leaders focused on strengthening cooperation in various sectors, including politics, economics, tourism, climate change, sustainable development, and maritime activities. As part of the commemoration of the 75th anniversary of diplomatic relations between the two nations, several specific areas for further collaboration were identified.
These areas of cooperation included the establishment of a school for maritime safety and security, the opening of a permanent office for the French Agency for Development (AFD) in Sri Lanka, the initiation of high-level diplomatic dialogues, cooperation in the education sector, and the enhancement of efforts to combat human trafficking in the maritime safety and security sector.
Additionally, both leaders exchanged views on topics of regional and multilateral interest in the current global context. President Macron expressed keen interest in collaborating with Sri Lanka during its upcoming chairmanship of the Indian Ocean Rim Association (IORA), of which France is a member. In turn, President Wickremesinghe showed interest in the Indian Ocean Commission, where France actively participates.
President Wickremesinghe praised President Macron's timely initiative in organizing the event held in Paris from the 22nd to 23rd June 2023, which he attended. He also conveyed Sri Lanka's agreement to join the Paris Agenda for the People and the Planet, emphasizing the country's commitment to global efforts for a sustainable future.
The French delegation accompanying President Emmanuel Macron for bilateral discussions will include the French Minister for Europe and Foreign Affairs Mrs Catherine Colonna, Ambassador of France in Sri Lanka and Maldives Mr Jean-Francoise Pactet, Advisors to the French President Mr Fabien Mandon, Mr Walid Fouque and Mr Josue Serres, Head of Asia Department of the French Ministry of Foreign Affairs Mr Benoit Guidee, the Press Counsellor of the President of France Mr Jonas Bayard, State Minister for overseas territories Philippe Vigier and Advisor of the French Minister of Foreign Affairs Florian Cardinaux.
The Sri Lankan delegation accompanying President Ranil Wickremesinghe will include Minister of Foreign Affairs Mr Ali Sabri, the Senior Advisor to the President on National security and Chief of Staff Mr Sagala Ratnayaka, Secretary to the President Mr Saman Ekanayake, Foreign Secretary Ms Aruni Wijewardane, Central Bank Governor Dr Nandalal Weerasinghe, Economic Advisor to the President Dr R.H.S. Samaratunge, Director General/Europe & North America the Ministry of Foreign Affairs of Sri Lanka Ms Shobini Gunasekera and Mr Randula Abeyweera, Director Youth and Sustainable Development to the President.