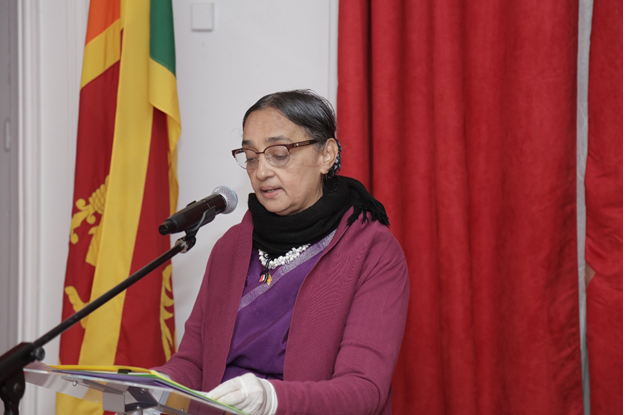 The Embassy of Sri Lanka in Paris celebrated the 73rd Anniversary of the National Independence of Sri Lanka on 4th February 2021 at the Embassy Premises.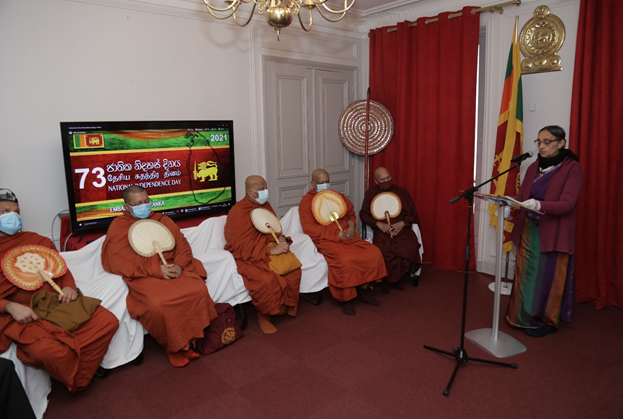 The proceedings commenced with the hoisting of the national flag by H E the Ambassador- designate Prof. Kshanika Hirimburegama, followed by singing of the National Anthem of Sri Lanka and lighting of the oil lamp.  Thereafter two-minute silence was observed in honour of those who scarified their lives for the protection of territorial integrity and sovereignty of Mother Lanka.
This was followed by religious observations by dignitaries representing all four major religions in Sri Lanka – Buddhism, Hinduism, Islam and Christianity, who bestowed blessings for the country, the leaders and the people.
The blessings were invoked by Ven. Parawahera Chandaratana Thero (Chief Incumbent of the International Buddhist Centre), Ven. Kongasdeniye Ananda Thero (Paris Bauddha Vihara and Dhammachakka Buddhist Association) and Ven. Murungasyaye Gnaniswara Thero (Jethawana Bauddha Vihara), Swamy P R Varatharaja Kurukkal (Sri Manicka Vinayakar Alayam), Mr. Mohomad Nawas and Rev. Father Janith Kaushalya.
The National Independence Day messages from H E the President, Hon. Prime Minister and the Hon. Foreign Minister were read by H E the Ambassador designate Prof. Kshanika Hirimburegama and Minister Mr. Rohitha Nugapitaya, respectively. Tamil language messages were read by Mrs Shiyamala Shammugaraja.
Finally, the Ambassador (designate) Prof Kshanika Hirimburegama conveyed a message of unity. She stated that time has come to identify ourselves as Sri Lankans leaving aside all differences as happened during the struggle for independence when all ethnic groups united to liberate our country from colonial powers. She also requested all communities to work together to achieve a united prosperous Sri Lanka.
She reiterated His Excellency President Gotabhaya Rajapaksa's vision in the "Vistas of Prosperity and Splendour" which enshrines the above message through fulfilling our own individual responsibilities to build a secure and prosperous nation.
Our Embassy here in France hopes to make greater strides in improving bilateral relations with the French Republic for mutual benefits through Economic collaborations, Education and Training along with enhanced social ties through Tourism.
Due to the world-wide Covid 19 pandemic our celebrations on this joyous occasion had to be curtailed to a great extent. She thanked the participants who joined the celebrations through zoom platform and urged all to work together to rebuild our country for prosperity for all. She also thanked the staff for their genuine endeavor to make this celebration a success.
The celebration concluded with offering of Dane to the 'Maha Sangha' and the other religious dignitaries. The event concluded with staff invited for a traditional Sri Lankan rice and curry meal.  
Embassy of Sri Lanka, Paris
05th February 2021