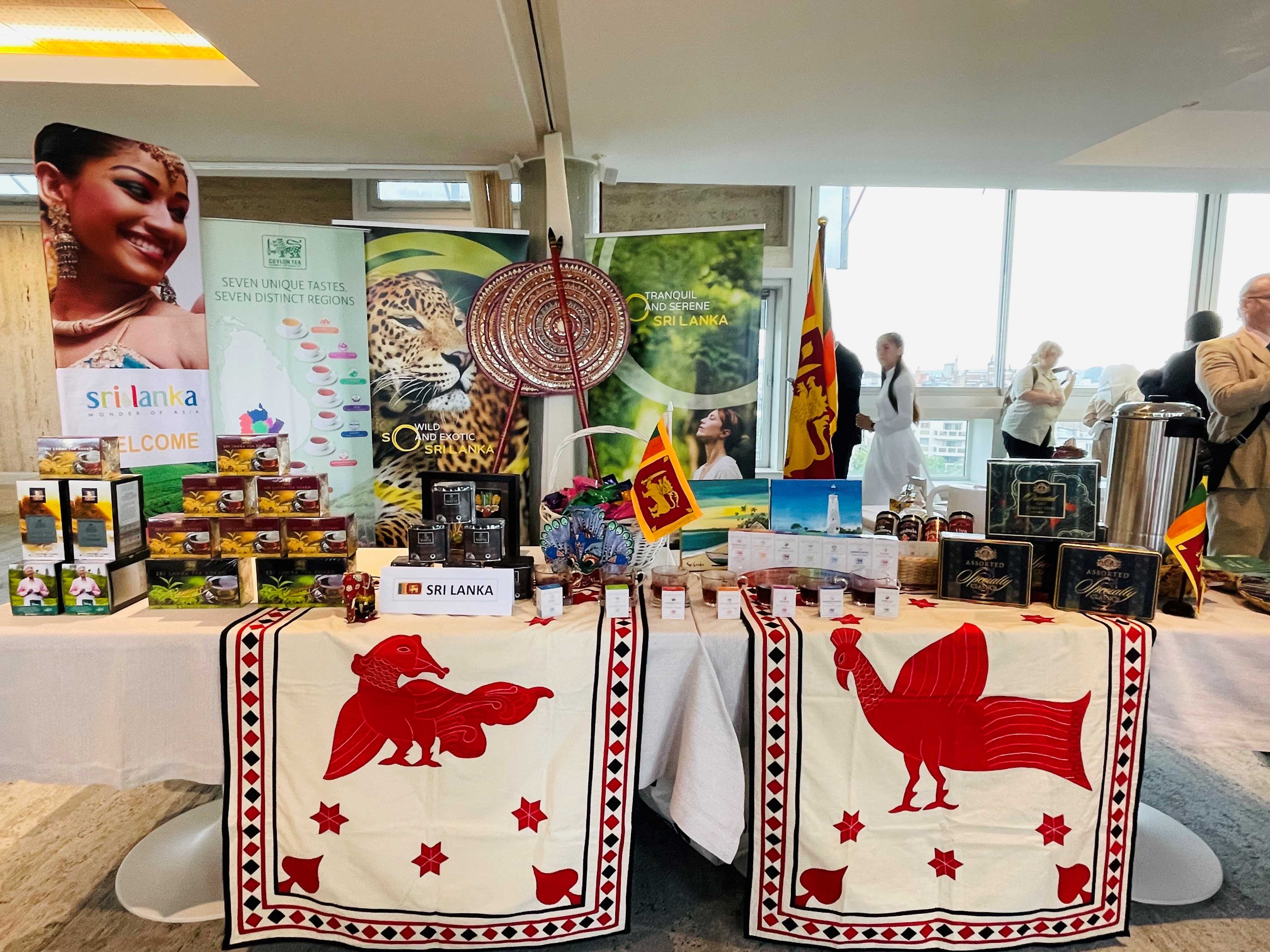 Press Release
Sri Lanka showcases the Ceylon tea brand at International Tea Day in UNESCO
Sri Lanka showcased its world-renowned Ceylon tea brand at the International Tea Day celebration at UNESCO Headquarters in Paris on Thursday 29 June 2023.  The International Tea Day was organized by the UNESCO Community Association and the Franco-Chinese Cultural and Artistic Exchange Centre for the second consecutive year, bringing together tea enthusiasts, experts, and member countries of UNESCO, showcasing the cultural ties, health benefits and the economic potential of tea across the globe. 
The Sri Lanka stand featured the country's rich heritage in tea and culture with an exquisite collection of teas and tea products, with the sampling of Ceylon tea on offer.  The stand attracted a diverse range of international visitors including diplomats, tea enthusiasts and media.  The visitors had the unique opportunity to sample the many flavours of Ceylon tea and savour their aroma.
Speaking on the occasion, the Ambassador and Permanent Delegate of Sri Lanka to UNESCO Manisha Gunasekera welcomed the opportunity to showcase the renowned Ceylon tea brand at an international event displaying teas from across Asia, Africa and the globe.  She highlighted the cultural synergies binding peoples of diverse countries and regions together through the art and aesthetic of tea drinking which is in effect a lifestyle.  She also referred to new trends in the sustainable production of teas in Sri Lanka.
A videos presentation at the Sri Lanka stand took the visitors on a captivating journey across picturesque tea estates and tea trails. The presentations showcased the process of tea cultivation, and the artful techniques involved in the preparation of tea.  Media coverage of Ceylon tea was undertaken by Chinese as well as Central Asian television channels present at the event, as their audiences were ardent consumers of Ceylon tea.
The event served as a meeting point for tea lovers, fostering dialogue and cooperation among countries, including Azerbaijan, Kazakhstan, Kyrgyzstan, China, Indonesia, Kenya, Sri Lanka, Tanzania, Vietnam, and several others.
Embassy of Sri Lanka
Paris
07.07.2023
Communiqué de presse
Sri Lanka expose le thé Ceylan lors de la journée internationale du thé à l'UNESCO
Le Sri Lanka présente sa célèbre marque du thé Ceylan lors de la journée internationale du thé tenue au siège de l'UNESCO à Paris le jeudi 29 juin 2023. Pour la deuxième année consécutive, la journée internationale du thé organisée par l'Association de la communauté UNESCO et le Centre d'échanges culturels et artistique franco-chinoise, a rassemblé les amateurs de thé, les experts et les pays membres de l'UNESCO pour mettre en valeur les liens culturels, les bénéfices du thé sur la santé et la potentielle économique de ce produit autour du monde.
Le stand du Sri Lanka a présenté le riche héritage du pays en matière du thé et la culture avec une collection exceptionnelle du thé et des produits à base du thé. Le stand du Sri Lanka a accueilli un large éventail de visiteurs internationaux y compris les diplomates, les amateurs de thé ainsi que les représentants du média. Les visiteurs ont eu l'occasion de savourer des goûts et des arômes variés du thé Ceylan.
L'Ambassadrice et la Déléguée permanente du Sri Lanka auprès de l'UNESCO, Manisha Gunasekera, s'est félicitée de l'opportunité de présenter la marque du thé Ceylan lors d'un événement international accueillant des thés de toute l'Asie, de l'Afrique et du monde entier. Lors de son discours, elle a souligné les synergies culturelles qui lient le peuple des pays et des régions du monde par le biais de l'art et de l'esthétique de la consommation du thé, qui est en effet un mode de vie.  Elle a évoqué également des nouvelles méthodes durables de la production du thé à Sri Lanka.
À travers une vidéo, le stand de Sri Lanka a fait voyager ses visiteurs en passant par des pittoresques plantations et des sentiers du thé du pays. La présentation a mis en avant le processus de la culture du thé, les techniques astucieuses pour la préparation du thé. La couverture médiatique du thé de Ceylan a été réalisée par les chaînes de télévision chinoises et d'Asie centrale présentes à l'événement, étant donné que leur public est constitué d'ardents consommateurs de thé de Ceylan.
L'événement a servi comme point de rencontre pour les amateurs de thé, favorisant le dialogue et la coopération entre les pays, notamment l'Azerbaïdjan, le Kazakhstan, le Kirghizistan, la Chine, l'Indonésie, le Kenya, le Sri Lanka, la Tanzanie, le Viêt Nam et plusieurs autres.
Ambassade de Sri Lanka
Paris
05.07.23