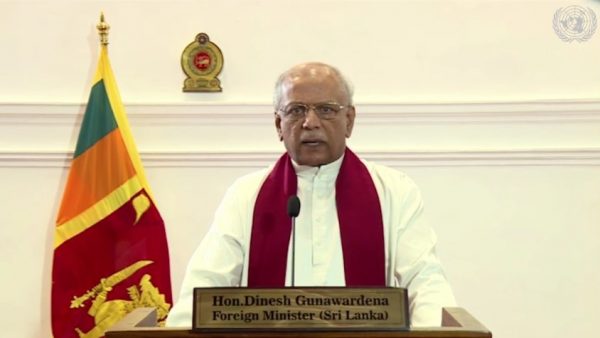 Madam President,
Madam High Commissioner,
Distinguished Ambassadors,
Ladies and Gentlemen,
As I address you today, the Office of the High Commissioner for Human Rights (OHCHR) has published a report on Sri Lanka accompanied by an unprecedented propaganda campaign on that report.
Sri Lankan heroic armed forces militarily neutralized the LTTE in 2009 after three-decades of conflict. The Sri Lanka Government acted in self-defense to safeguard the unitary state, sovereignty & territorial integrity from the world's most ruthless separatist terrorist organization.
The LTTE is the only terrorist organization in the world which has killed two world leaders: a serving President of Sri Lanka and a former Prime Minister of India extending its terror beyond the borders of Sri Lanka.
End of terrorism guaranteed the most cherished of all human rights - right to life of all Sri Lankans – Sinhala, Tamil, and Muslims.
Nonetheless hegemonic forces colluded against Sri Lanka in bringing an unsubstantiated resolution against Sri Lanka which was defeated by the support of friendly nations who remain by Sri Lanka's side even today. Further resolutions were presented to this Council on purely political motives. In each instance Sri Lanka presented the procedural improprieties, and how such processes could set a dangerous precedent affecting all member states of the United Nations.
The Government which assumed office in Sri Lanka in 2015, in a manner unprecedented in human rights fora, joined as co-sponsors of Resolution 30/1 which was against our own country. It carried a host of commitments that were not deliverable and were not in conformity with the Constitution of Sri Lanka. This led to the compromising of national security to a point of reviving terrorist acts on Easter Sunday 2019 causing the deaths of hundreds.
The rejection of this resolution by the peoples of Sri Lanka was clearly manifested in the mandate received by His Excellency President Gotabaya Rajapaksa in November 2019.  Based on this mandate I announced at the 43rd session of this Council that Sri Lanka would withdraw from co-sponsorship of the resolution. I also stated that Sri Lanka would remain engaged with the UN system including this Council.
We have provided detailed updates to the OHCHR in December 2020 as well as in January 2021 on the progress of implementation of commitments that Sri Lanka had undertaken such as continuity of the existing mechanisms, appointment of a special commission of inquiry headed by a Supreme Court Judge, achieving the SDGs, progress made in returning lands, demining and creating new avenues of livelihoods.
These steps have been taken even as Sri Lanka was battling the effects of the COVID-19 pandemic for the past one year. In spite of these challenges we held a free and fair general election in August 2020 and elected a new Government with a two-thirds majority in one of Asia's oldest Parliamentary democracies.
It is regrettable that despite the spirit of cooperation with the HRC and its mechanisms, elements working against Sri Lanka intend to table another country-specific resolution based on this OHCHR Report. This rejected report by Sri Lanka has unjustifiably broadened its scope and mandate further, incorporating many issues of governance and matters that are essentially domestic in any self-respecting, sovereign country.
I leave it to the members and observers of this Council to make their own judgment on whether Sri Lanka represents a situation that warrants the urgent attention of this Council, or if this campaign is essentially a political move that contravenes the very values and principles on which this Council has been established. Particularly at a time when legislation is enacted by some countries to protect their soldiers from prosecution in military operations carried out overseas, only points to duplicity and the hypocritical nature of their motives. This cannot but result in a significant loss of morale among countries engaged in the struggle against terrorism.
The Council must hold the scales even. Not going by hearsay, unilateral action or one angled doubtful sources but adhere to its guiding principles. Insistence on such ever-expanding externally driven prescriptions notwithstanding our continuous cooperation and engagement with this Council can pose numerous challenges.
As the Council is aware this is a critical time to the entire world in the last hundred years where we need to be united in our efforts to overcome the Covid19 pandemic and to revive battered economies. I appeal to the members of this Council to take note of our continued engagement and cooperation on its merit and support us by rejecting any resolution against Sri Lanka. We believe that the extent to which the resources and time of this Council has been utilized on Sri Lanka is unwarranted, and carries a discouraging message to the sovereign states of the global South.
The need of the hour, in the face of an unprecedented pandemic, is solidarity rather than rancor and acrimony arising from divisions within this council. In view of the circumstances set out above, we urge that this resolution be rejected by the Council and be brought to closure.
May I conclude quoting the words of Lord Buddha,
"Siyalu sathwayo niduk wethwa, nirogee wethwa, suwapath wethwa".
May all beings be safe,
May all beings be free from suffering.
May all beings be well and happy.
Thank you.
French Version 
Déclaration du Ministre des Affaires étrangères du Sri Lanka
Segment de haut niveau de la
46e session ordinaire du Conseil des droits de l'Homme de l'ONU
23 février 2021, Genève
Madame la Présidente,
Madame la Haute-Commissaire aux droits de l'Homme,
Mesdames et Messieurs les Ambassadeurs,
Mesdames et Messieurs,
Au moment où je m'adresse à vous, le Haut-Commissariat aux droits de l'Homme (HCDH) a publié un rapport sur le Sri Lanka. À ce rapport s'ajoute une campagne de propagande inégalée.
En 2009, les forces armées sri lankaises ont héroïquement neutralisé les LTTE sur le plan militaire après un conflit terroriste de trente ans. Le Gouvernement sri lankais a agi en légitime défense dans le but de protéger l'unité, la souveraineté et l'intégrité territoriale de l'État contre l'une des organisations terroristes séparatistes les plus féroces au monde

.
Le groupe LTTE est la seule organisation terroriste dans le monde à avoir assassiné deux dirigeants : un Président sri lankais en cours de mandat et un ancien Premier Ministre indien, étendant de ce fait son règne de la terreur en-dehors des frontières du Sri Lanka.

 
Au Sri Lanka, mettre un terme au terrorisme signifiait garantir le plus cher des droits humains : le droit à la vie pour tous les Sri Lankais, qu'ils soient Cinghalais, Tamouls ou Musulmans.
Néanmoins, des forces hégémoniques se sont liguées contre le Sri Lanka pour établir une résolution infondée contre notre pays qui a pu être invalidée grâce au soutien de nations alliées qui demeurent à nos côtés aujourd'hui encore. D'autres résolutions ont été présentées au Conseil à des fins purement politiques. Dans chaque cas, le Sri Lanka a révélé des vices de forme et expliqué que de tels processus étaient susceptibles de créer un dangereux précédent capable d'affecter tous les États membres des Nations unies.
Le Gouvernement entré en fonctions en 2015 a coparrainé la Résolution 30/1 établie contre son propre pays : une situation inédite en matière de droits de l'Homme. Cette décision n'avait, en effet, pas été validée par le Président ou le cabinet des ministres de l'époque. La Résolution 30/1 comportait une série d'engagements hors d'atteinte et non conformes à la Constitution du Sri Lanka. Ceci a nuit à la sécurité nationale, au point de raviver le terrorisme lors des attentats du 21 avril 2019, causant la mort de centaines de personnes.

 
Le rejet de la Résolution par la population sri lankaise s'est manifesté dans les urnes par l'élection en novembre 2019 de Son Excellence le Président Gotabaya Rajapaksa. En vertu de son mandat, j'ai donc annoncé durant la 43e session du Conseil que le Sri Lanka cesserait de coparrainer la Résolution. J'ai également exprimé l'engagement du Gouvernement sri lankais à poursuivre sa coopération avec le système des Nations unies, y compris le présent Conseil.
Nous avons présenté des comptes rendus détaillés au Haut-Commissariat des droits de l'Homme en décembre 2020 et en janvier 2021 sur les progrès accomplis dans l'application des engagements volontaires pris par le Sri Lanka, comme, par exemple, la continuité des mécanismes existants, la mise en place d'une Commission d'enquête supervisée par un juge de la Cour Suprême, la réalisation des objectifs de développement durable, la restitution de terres, le déminage et la recherche de nouveaux moyens de subsistance.
Des mesures ont été prises alors même que le Sri Lanka luttait depuis un an contre les conséquences de la pandémie de Covid-19. En dépit de ces épreuves, nous avons organisé des élections générales libres et équitables en août 2020 et élu un nouveau gouvernement à la majorité des deux tiers dans l'une des plus anciennes démocraties parlementaires d'Asie
Il est regrettable que,

malgré l'esprit d'engagement du Sri Lanka vis à vis du

Haut-Commissariat des Nations unies aux droits de l'Homme (HCDH) et de ses instruments, des éléments hostiles au Sri Lanka aient l'intention d'examiner une nouvelle résolution visant un pays en particulier contre le Sri Lanka, en se basant sur le rapport du HCDH. Ce rapport, rejeté par le Sri Lanka, qui a excessivement dépassé son champ d'action et son mandat, soulève plusieurs questions de gouvernance et traite d'affaires relevant essentiellement de la compétence nationale de tout pays souverain qui se respecte.
Je laisse au soin des Membres et des Observateurs de ce Conseil de forger leur propre opinion sur la question de savoir si le Sri Lanka mérite l'attention urgente du Conseil, ou, au contraire, si cette campagne n'est essentiellement qu'une manoeuvre politique allant à l'encontre des valeurs et des principes sur lesquels ce Conseil a été fondé. À une époque où quelques pays décrètent la législation de manière à empêcher que leurs soldats ne soient la cible de poursuites judiciaires lors d'opérations militaires menées à l'étranger, ces actions ne semblent que prouver la duplicité et le caractère hypocrite de leurs intentions. Il en résulte seulement un effet négatif considérable sur le moral des pays engagés dans la lutte contre le terrorisme.
Ce Conseil doit se montrer équitable et ne pas se laisser guider par des rumeurs ou des sources douteuses, mais plutôt adhérer à des principes directeurs. L'accent porté sur des recommandations toujours plus imposées par des pays tiers, nonobstant notre coopération constante et notre engagement avec le Conseil, peut entraîner de nombreuses difficultés.
Comme le Conseil le sait, le monde entier n'a pas été confronté à un moment aussi critique depuis une centaine d'années. Il nous faut faire preuve d'unité dans nos efforts pour triompher de la pandémie de Covid-19 et redynamiser nos économies fragilisées. J'en appelle aux membres du Conseil pour qu'ils reconnaissent notre engagement et notre coopération infaillible selon leurs mérites et nous soutiennent en rejetant toute résolution qui serait votée contre le Sri Lanka. Nous considérons comme injustifiée la mesure dans laquelle les ressources et le temps du Conseil ont été mobilisés à l'égard du Sri Lanka. Selon nous, cette décision envoie également un message décourageant aux pays souverains du Sud.
En cette époque de pandémie mondiale sans précédent, nos pays ont plus que jamais besoin de solidarité, et non pas de rancœur et d'animosité engendrées par les divisions au sein de ce Conseil. En raison des conclusions évoquées ci-dessus, nous appelons instamment à ce que cette Résolution soit rejetée par le Conseil et qu'un terme soit mis au processus.
Je conclurai sur ces paroles du Bouddha :
"Siyalu sathwayo niduk wethwa, nirogee wethwa, suwapath wethwa".
"Que tous les êtres se portent bien,
Que tous les êtres soient heureux,
Que tous les êtres soient en paix."
Merci.