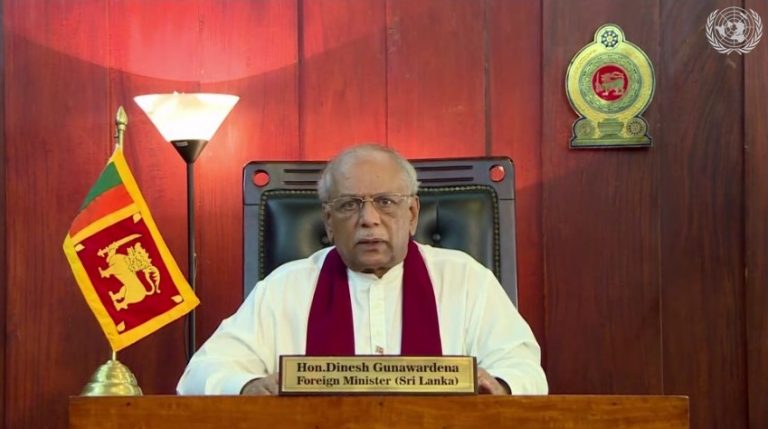 Thursday, 25 February 2021 01:03
Madam President,
Madam High Commissioner,
Excellencies,
Ladies and gentlemen,
The OHCHR Report which is presented today, emanates from the Resolution 30/1 and 40/1, from which the Government of Sri Lanka announced its withdrawal of co-sponsorship, at the 43rd Session of this Council last year.
Sri Lanka rejects the High Commissioner's Report which has unjustifiably broadened its scope and mandate further, incorporating many issues of governance and matters that are essentially domestic for any self-respecting, sovereign country. This is in complete violation of Article 2 (7) of the Charter of the UN that states: "Nothing contained in the present Charter shall authorize the United Nations to intervene in matters which are essentially within the domestic jurisdiction of any state…"
The trajectory that has emerged with regard to the recommendations and conclusions reflects the preconceived, politicized and prejudicial agenda which certain elements have relentlessly pursued against Sri Lanka. These recommendations are based on ill-founded allegations.
Sri Lanka categorically rejects the conclusions and recommendations in the High Commissioner's Report.
The call for asset freezes, travel bans, references to the ICC and the exercise of universal jurisdiction by individual States, based on evidence that up to date has been denied access to and retained by the High Commissioners Office with some of it unreleased for thirty years, particularly in relation to a country like Sri Lanka which has consistently and constructively engaged with the UN and its mechanisms, points to a distinct and eminent danger which the international community as a whole need to take note of. Such unilateral actions by certain countries are unacceptable and a violation of the principles of natural justice.
In addition to the progress made since last March, Sri Lanka has provided written comments on instances of erroneous information, misconceived and arbitrary assessments in the Report. It is regrettable that the High Commissioners Office published its Report, accompanied by an unprecedented propaganda campaign on it and refused to publish our Comments on the report as an addendum. This has deprived Sri Lanka and members of equal visibility of Sri Lanka's views on the report.
Sri Lanka refutes the allegations that have been reproduced in the High Commissioner's report, from the highly contentious Report of the Panel of Experts (PoE) on Accountability and the Report of the High Commissioner's Office Investigation on Sri Lanka (OISL), which have been rejected by Sri Lanka for reasons explained to this Council before. The contents of the Report which have been drawn from the said disputed reports are rife with factual inaccuracies that appear to equate atrocities committed by the LTTE, a terrorist organization proscribed internationally, with legitimate action taken by the government to safeguard the territorial integrity of the country and the right to life of our people.
Madam President,
Insistence on ever-expanding externally driven prescriptions, notwithstanding our continuous cooperation and engagement with this Council and all UN bodies, can pose numerous challenges and such processes could set a dangerous precedent affecting all member states of the UN.
We regret the disproportionate attention drawn to Sri Lanka by this Council, driven by political motivations. Sri Lanka calls upon the members of this Council that any resolution which is based on this Report, be rejected by the Council and be brought to a closure.
In conclusion,
We remain open to engaging constructively with the UN, including this Council, and the international community in mutually agreed areas, in conformity with the Constitution and in keeping with domestic priorities and policies.
Ayubowan
French Version 
Déclaration par l'Honorable Ministre des Affaires Etrangères de Sri Lanka Sujet à l'Ordre du Jour 2 : Dialogue Interactif sur le rapport du Haut-Commissariat des Nations Unies aux Droits de l'Homme, «Promotion de la réconciliation, de la responsabilité et des droits de l'homme au Sri Lanka » (A/Conseil des Droits de l'Home/46/20)
Madame la Présidente,
Madame la Haute-Commissaire,
Excellences,
Mesdames et Messieurs,
Le Rapport du Haut-Commissariat des Nations Unies aux Droits de l'Homme qui est présenté aujourd'hui, émane des Résolutions 30/1 et 40/1, à partir desquelles le Gouvernement de Sri Lanka a annoncé son retrait du coparrainage, à la 43e Session de ce Conseil l'année dernière.
Le Sri Lanka rejette le Rapport du Haut-Commissariat qui a élargi son champ d'action et son mandat, de manière injustifiée, en incorporant de nombreux sujets de gouvernance et de dossiers qui relèvent essentiellement de la politique intérieure pour tout pays souverain, et qui se respecte. Cela va totalement à l'encontre de l'Article 2 (7) de la Charte des Nations Unies qui stipule que « rien de ce qui est contenu dans la présente Charte ne doit autoriser les Nations Unies à intervenir dans des sujets qui relèvent essentiellement de la juridiction intérieure de tout Etat… »
La trajectoire qui a émergé de ces recommandations et conclusions reflète l'agenda préconçu, politisé, et préjudiciable, dont certains éléments ont poursuivi sans relâche le Sri Lanka. Ces recommandations sont basées sur des allégations non fondées.
Le Sri Lanka rejette catégoriquement les conclusions et les recommandations du Rapport du Haut-Commissariat.
L'appel aux gels d'avoirs, aux interdictions de voyage, les références à la Cour Pénale Internationale, et l'exercice de la juridiction universelle par les Etats individuels, basés sur des preuves qui jusqu'à maintenant étaient non accessibles, et retenues par le Département des Hauts Commissaires, certaines d'entre elles n'ayant pas été disponibles pendant trente ans, en particulier en relation avec un pays comme le Sri Lanka, qui s'est engagé de manière continue et constructive avec les Nations Unies et ses mécanismes, révèle un danger distinct et éminent, dont la communauté internationale, dans son ensemble, doit prendre note. De telles actions unilatérales de la part de certains pays sont inacceptables, et constituent une violation aux principes de justice naturelle.
En plus des progrès faits depuis mars dernier, le Sri Lanka a produit des observations écrites sur des cas d'informations erronées, et des jugements faux et arbitraires issus du  Rapport. Il est regrettable que le Bureau du Haut-Commissariat a publié son Rapport, accompagné d'une campagne de propagande sans précédent à ce sujet, et a refusé de publier nos observations sur le Rapport en annexe. Cela a privé le Sri Lanka et ses membres d'une visibilité équivalente s'agissant des opinions du Sri Lanka sur le Rapport.
Le Sri Lanka réfute les allégations reproduites dans le rapport du Haut-Commissariat, du Rapport hautement controversé du Panel des Experts sur la Responsabilité, et le Rapport du Bureau du Haut-Commissariat de l'Investigation sur le Sri Lanka, qui ont été rejetées par le Sri Lanka pour des raisons expliquées à ce Conseil auparavant. Les contenus du Rapport qui ont été extraits des rapports controversés sont remplis d'inexactitudes factuelles qui apparaissent comme égalant les atrocités commises par les LTTE, une organisation terroriste proscrite au niveau international, grâce à l'action légitime du gouvernement pour préserver l'intégrité territoriale du pays, et le droit à la vie de nos concitoyens.
Madame la Présidente,
Insister sur des prescriptions toujours plus importantes, et dictées de l'extérieur, en dépit de notre coopération continue et de notre engagement avec ce Conseil, et toutes les institutions des Nations Unies, peut poser de nombreux défis et de tels procédés pourraient créer un précédent dangereux affectant tous les Etats membres des Nations Unies.
Nous regrettons l'attention disproportionnée attirée sur le Sri Lanka par ce Conseil, guidée par des motivations politiques. Le Sri Lanka appelle les membres de ce Conseil à faire en sorte que la résolution basée sur ce Rapport, soit rejetée par le Conseil et qu'il y soit mis fin.
En conclusion,
Nous demeurons ouverts à nous engager de manière constructive avec les Nations Unies, y compris avec ce Conseil, et avec la communauté internationale dans les domaines acceptés mutuellement, en conformité avec la Constitution, et en préservant les priorités et politiques intérieures.
Ayubowan.