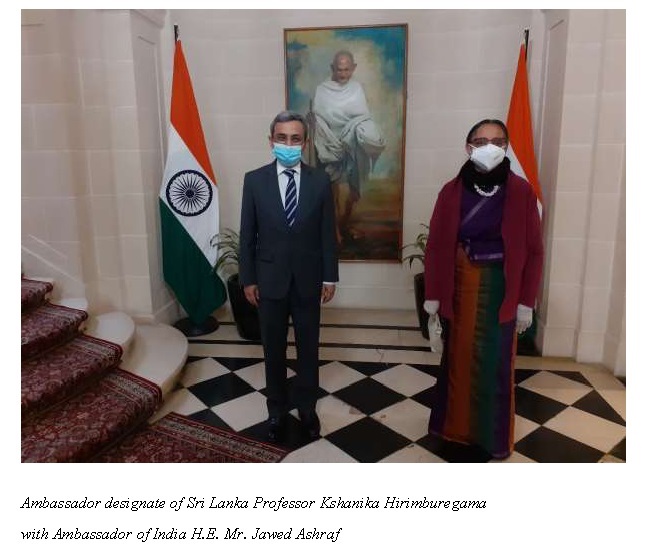 Professor Kshanika Hirimburegama, Ambassador designate of Sri Lanka to France paid a courtesy call on the Ambassador of India H.E. Mr. Jawed Ashraf yesterday at the Embassy of India in Paris.
H.E. Mr. Jawed Ashraf warmly welcomed and congratulated Ambassador-Designate Hirimburegama on assuming her duties in France and expressed his willingness to work in partnership with Sri Lanka.
While discussing the long-standing relationship between the two countries, Sri Lanka and India, Professor Kshanika Hirimburegama highlighted that Sri Lanka sees India as their "big brother". The two Ambassadors further exchanged views on their relations with France and along with some areas of cooperation that Sri Lanka could work on to enhance their partnership with the Hexagon.
Sri Lanka being an island and France being a maritime nation, it would be mutually beneficial to develop projects around the ocean. H.E. Mr. Jawed Ashraf also affirmed India's commitment to projects promoting the blue economy, sustainable energies, and biodiversity protection. He informed that India and France have launched 2021-22 as the Indo-French year of the Environment. The Indian Ambassador stated that he has been impressed with Sri Lanka's green and clean environs at every visit, adding that he believes Sri Lanka has a lot to bring to the environmental table.
They later exchanged views on their respective scientific collaboration with France and many opportunities of collaborating with some of the renowned establishments in France such as the French National Centre for Scientific Research (CNRS) and the French Development Agency (AFD).
The Covid-19 situation was also discussed, with the expressed hope that there will be some improvements by summer. Ambassador Hirimburegama expressed her gratitude to the Ambassador of India for the donation of vaccines to Sri Lanka which has enabled vaccination campaign to begin in earnest.
The meeting ended with a photo opportunity for the two ambassadors in front of Mahatma Gandhi's a photograph and a reaffirmation of their willingness to strengthen future cooperation.
Sri Lanka Embassy in Paris
16th February 2021